Gunmetal Metallic Silicone Wedding Rings
Buy a rubber wedding band that works as hard as you do.
---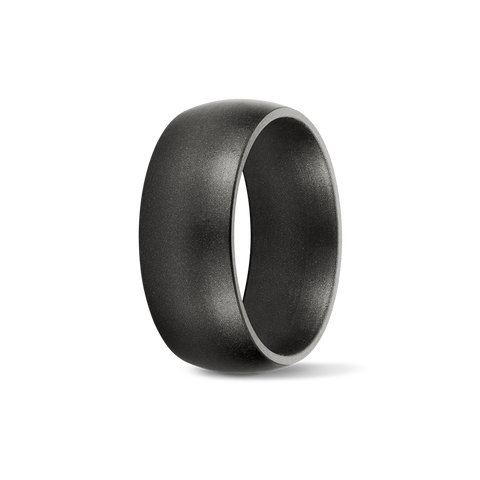 Titan Gunmetal Metallic Silicone Wedding Band
$29.99 // 9MM
We use our own recipe of colorants without any metallic/conductive ingredients to create this safe and unique silicone wedding ring. The Gunmetal color represents a classy dark metallic look that is unique in the industry. We proudly make all our gunmetal metallic Titan rings here in the US from domestically sourced bio compatible medical grade silicone. SafeRingz are a non conductive, heat resistant, durable, and safe wedding ring that is designed to break when stretched, keeping your fingers safe no matter your occupation or hobby.
Buy the ring that works as hard as you do.
Great Ring for the Working Man and those with Claustrophobia.
Sounds weird but when I feel claustrophobic, rare but does occur, I need all restrictions removed. On a Caribbean cruise, my hand swelled up due to the humidity. I couldn't get my wedding ring off and it drove me crazy to the point of looking to cut it off. A friend put some lotion in my finger and with a lot of tugging it finally came off. My new Saferingz silicone is properly sized to not fall off but flexes enough to come off when I want.
At work, I work on machinery and high voltage. I take it off to set a good example but if I'm alone and forget, to big thing.
I went with the wide band and the color, texture, and size make it look very stylish. I might have to get a couple more for fancy dinners and evenings out.
Looks incredible
Purchased this ring for my husband who needed a safe alternative to his Damascus steel and whiskey barrel wedding ring to wear to work. I used the measurement guide to find his size, it fits perfectly, and it looks like metal. Classy and safe.
Best safe ring!
The ring fits him perfectly. He loved the message I had engraved on the inside as well. The production of my ring was done steadfast, and I appreciate all of the hard work everyone put in to give me a ring that he loves.