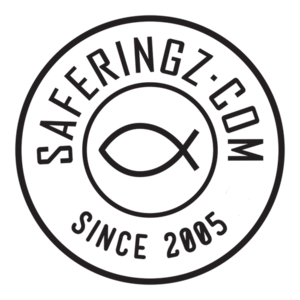 OUR SAFERINGZ STORY
The idea for the first silicone wedding ring wasn't born in a big factory or a fancy boardroom. It wasn't created to be the next million dollar idea or Instagram craze.

The idea came when Cameron Bair, the inventor of the first silicone wedding ring, became frustrated after continuously needed to replace his expensive gold wedding band due to his active lifestyle. He wanted to create a ring that was affordable to replace, comfortable, but most importantly—kept him safe.

Several years later, siblings Cameron, Sheena, and Shalayne and their spouses decided to form a company so hard-working, active people could also wear their commitment in comfort and safety. Thus, SafeRingz was born. Our silicone wedding bands are biocompatible, made of hypoallergenic silicone and are non conductive. They are heat resistant and break apart or stretch drastically reducing possibilities of losing fingers or being degloved. And they are still worn today by the same people who made them. Firefighters, landscapers, nurses, schoolteachers, electricians, warehouse managers, barrel racers and everything in between.

Here at SafeRingz, we are committed to our partners, our country and its troops. We take pride in our small, family-run business rooted in Christian values—to provide all couples the opportunity to wear their commitment affordably, comfortably and safely.
---