Gunmetal Metallic Silicone Wedding Rings
Buy a rubber wedding band that works as hard as you do.
---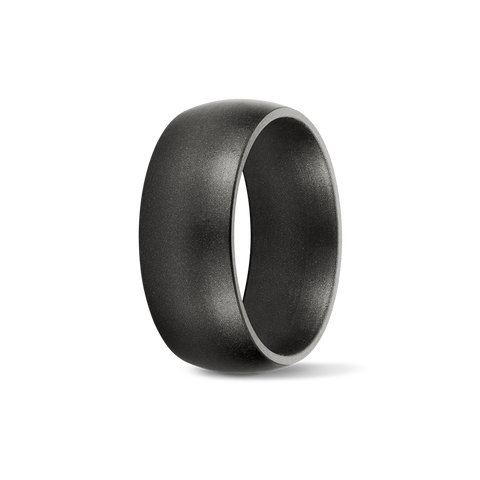 Titan Gunmetal Metallic Silicone Wedding Band
$29.99 // 9MM
We use our own recipe of colorants without any metallic/conductive ingredients to create this safe and unique silicone wedding ring. The Gunmetal color represents a classy dark metallic look that is unique in the industry. We proudly make all our gunmetal metallic Titan rings here in the US from domestically sourced bio compatible medical grade silicone. SafeRingz are a non conductive, heat resistant, durable, and safe wedding ring that is designed to break when stretched, keeping your fingers safe no matter your occupation or hobby.
Buy the ring that works as hard as you do.
Perfect!
Have had this a little over two months now and it's just what my hubby needed! He wears it 24-7 and has had no problems at all. Comfortable, looks good and the inscription was easy to see. Have read some folks write theirs has stretched…maybe they take them on and off a lot? My husband's has not stretched at all. Now I'm ready to get him one in the gold for dressy wear!
Stretched within a month
I got rings from this site for both my wife and myself and we've been very unimpressed so far. I initially liked the feeling of the material and everything, but mine stretched at least one size larger within a month and my wife's has also stretched after we've only been married three months. Disappointing because these aren't the cheapest silicone bands on the market. We decided to try Groove rings on the recommendation of a friend and I have to say that while I don't like the feeling of their material quite as much (softer, more stretchy, non-smooth inside), I don't get the feeling that it will plastically deform like the Saferingz material. Plus, they offer a lifetime warranty against stretching, breakage, and even loss.
Ring did not arrive on date stated even though I paid extra for express delivery.
Ring must be a return as it has an inscription and I didn't order any such thing.