Pink Metallic Silicone Wedding Rings
Buy a rubber wedding band that works as hard as you do.
---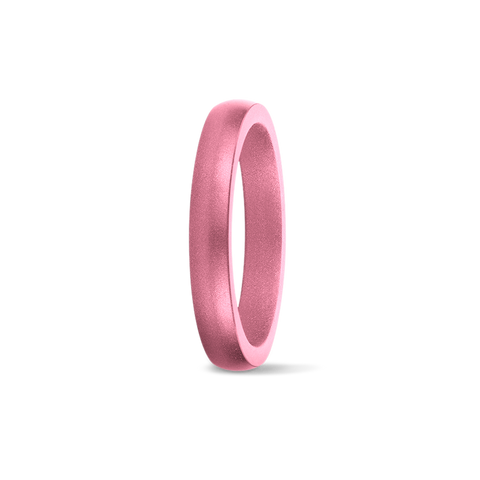 Stackable Pink Metallic Silicone Wedding Band
$19.99 // 3MM
We use a unique recipe made from our pink metallic-looking colorants and manufactured here in the USA to create a consistent, authentic metallic looking silicone wedding ring. Whether at work, on duty or on an adventure, a SafeRingz pink metallic stackable silicone wedding band is designed to stretch and eventually break to keep you and your finger safe.
Buy the ring that works as hard as you do.
Best value silicone ring I've found!
Comfortable, durable, and the best metallic gold-look finish that I've been able to find for a good price and fast shipping.
Perfect alternative for sporting and traveling
We each have these bands that we use for sporting activities and when traveling – when we really don't want to have valuables with us. Just be warned that the sizing (especially 1/2 sizes) make a big difference especially with women. I bought my wife to just in case and only one of them fits properly.
Best ring
I got this ring because I wanted to show people that i am engaged. I wear this ring 24/7! I have no reason to take it off! No matter where I'm at or what I'm doing, the ring stays on my finger and it serves its purpose and looks good too!