Silicone wedding rings for those who match hard work with commitment.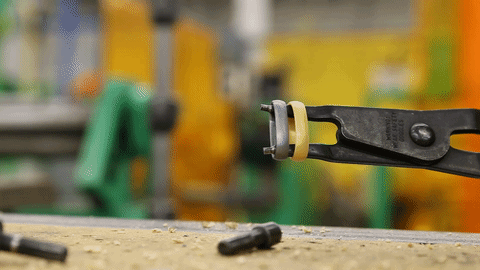 RINGS BUILT TO BREAK TO KEEP YOU SAFE.
SafeRingz are rubber wedding bands designed to break when stretched, keeping your finger intact and avoiding the dreaded ring avulsion if snagged or caught on something. Our rubber wedding bands have been used in the field and have been proven to be a safe alternative to metal rings for all jobs.

Hypo-Allergenic • Non-Conductive
Heat Resistant • Bio-Compatible
Meet Brian from Opus Woodworking
And SafeRingz wearer since 2015. When your job is turning mundane slabs of wood into beautiful, modern and function furniture, you realize that your fingers are important to the job, which is why he wears our silicone wedding ring. See his story and why he chose SafeRingz.
TOOLS NOT JEWELRY
Whatever you do, SafeRingz is the original silicone wedding ring that's engineered for safety.
Service
Military
Police // EMS
Firefighter
Security
Work
Construction
Lineman
Plumber
Mechanic
Adventure
Crossfit // Fitness
Climbing // Hiking
Hunting // Archery // Fishing
Extreme Sports
A RING THAT WORKS AS HARD AS YOU DO.
Our rubber wedding bands have a unique metallic pigment that makes them look like a real metallic wedding band, yet they are safe, flexible and comfortable to wear.

Tested & Engineered for Safety • Comfort-Fit, Flex Design
Break-Away Technology • Elite Silicone Construction
WE PROUDLY SUPPORT OUR TROOPS.
A portion of every silicone wedding band that is sold goes toward giving a free ring to a serviceman or servicewoman in order for them to safely show their commitment no matter where they are. A commitment not only to our country, but to those family members who have ever had to spend a night hoping that their loved one would safely return to them. It's just one small way we can say "thank you," for all the sacrifice in service to our country.
Meet the Rugged, Hard-Working #SafeRingz Wearers